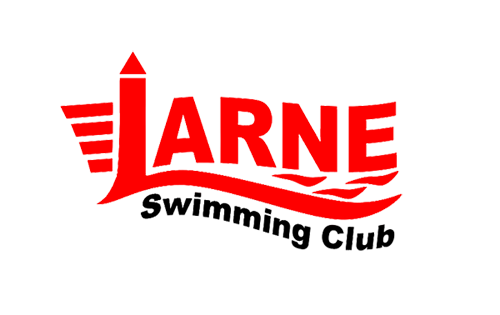 Club History
Larne Swimming Club History
Larne Swimming Club is a forward thinking, competitive swimming club, serving the swimming community of East Antrim. We operate out of numerous local swimming pools including Larne, Ballymena, Valley, Carrickfergus, Antrim and more recently the 50M Pool in Magherafelt.
The Club started in 1969 when Frank (Jock) Bradley , the pool Manager at Larne, started the "Larne junior swimming club". Shortly afterwards Dr Gerald Gould joined the club and continued to be actively involved right up until 1985, by which time he also had served as Swim Ulster President, Indeed Gerald presented medals at the 2010 Antrim Swimming Championships during the Finals session at Larne. Larne's first international recognition came when Alison Law and Joanne Guiller represented Northern Ireland at the Commonwealth Games.
1985 saw an Ulster family dynasty make their beginnings at Larne. Liz Reid coached Diane Barr to Paralympic Gold in Seoul, and how proud the whole club was when in Diane carried the Olympic Torch along the Antrim Coast in June 2012, (one of four past and present Larne swimmers who carried the 2012 Olympic Flame in its Journey through N. Ireland). Liz's son Andrew continued the International trend, competing in World and European Championship meets and the Commonwealth Games in Kuala Lumpur. Today Andrew, after a successful spell as Head Coach of Lisburn Swimming Club, is the Swim Ulster High Performance Coach, guiding the top talent in Ulster swimming into International Competition.
1999 saw Raymond Skillen join as Head Coach. Warm weather training was introduced and regional representation continued to increase – at one time Larne had 9 swimmers on the Ulster Squad and 3 on the Irish 2012 Squad. Jonathon Niblock would represent Ireland at European Championships and Conor Leaney (British Champion in 100 Free in 2006) represented Northern Ireland at the Commonwealth Games in Delhi. During this period The Senior Boys also secured the OPEN War Memorial Shield for the first time in November 2005 a trophy won a total of 4 times over the next few years.
Larne Swimming club continues to be progressive. We have over 200 active swimming members with vibrant Junior and Senior sections within the Club. As recently as 2011 and 2012 Danielle Hill and Conor Ferguson excelled in British Age Group Championships in Sheffield bringing Home Medals of all three colours. Peter Ferguson served as Swim Ulster President and we have a strong record as one of the top clubs in Ulster, not just from a performance viewpoint but also with a strong volunteer ethos within Club member parents and friends. In 2010 the Club, working together with Lisburn Swimming Club, introduced the Antrim Swimming Championships Meet, held as a final Irish National qualifying event. In 2012 his meet attracted entries from 25 Clubs across Ireland. Larne SC have been Ulster PTL Division 1 Champions for the past two-three seasons.
In 2017 we have gained the Swim Ireland Clubmark and the future of Larne Swimming Club looks as strong and bright as ever with.
Click on the link below to see the blog spot that was used for news in 2005/06!